Will true love conquer all, or will the rich and powerful Steele Empire destroy everything…
including their lives?
Heart of Steele
Coming this March 2nd to MuseItUp Publishing
Heart of Steele has been a labour of love of mine for over three years now, and I'm thrilled to finally share it with you all. This story takes place partially in a family owned bakery. I thought it would be fun to share a recipe from my book.
Here is the excerpt mentioning 'Sugar Shack Maple Walnut Cheesecake.'
Chapter One
It seems right now that all I've done in my life is make my way here to you.


Kara pressed the book to her breasts and sighed. In her mind's eye, she pictured the ruggedly handsome Clint Eastwood playing the part of Robert Kincaid in the film version of The Bridges of Madison County.


If only men talked like this in real life. Her gaze travelled over row upon row of oak bookcases, each filled to capacity. An alcove sat under the stairs where, more often than not, a child sat in wide-eyed wonder of the book opened on his or her lap. Every conceivable surface held books; they gracefully divided the room into sections. How she loved spending her lunch hours here, where books still quivered from recent use and radiated traces of the wonder prompted.


"So what did you think of the passage I marked for you?" With two cups of tea in his weathered hands, Abe shuffled past boxes of unopened books. "Robert Waller sure has a way with words, don't you think?"
Kara smiled. "I've heard so many different things about his writing. But you can't dispute he has a gift for taking everyday issues and making them into intimate ones in the simplest of ways."
Abe set the cups down on a small card table wedged between their chairs. "I thought you'd like it."
She closed the book, returned it to the shelf beside her, and sipped from her tea. "Mmm, I love honey in my tea."
"I think you're sweet enough without it."
Heat rushed to her cheeks. Abe's handsome grandson, Noah, filled the doorway; his mouth was turned up in a devilish grin.
"You're a smooth talker, Noah." Abe cleared a stack of books off of the chair beside his.
"You're just in time for tea."
"What, no desserts today?" He gaped at Kara.
Kara smiled again and retrieved a pastry box from under her chair. "You didn't actually think I'd come empty-handed, did you?"
Noah's grandfather stood between him and the box. "You keep your big mitts out of there until I get back with your tea." He shook a finger in his face.
Noah put up his hands in surrender. "Yes, sir!"
Kara's body seemed to have a mind of its own when it came to being left alone with Noah—her pulse raced and she started to sweat in the most inopportune places. Lately, he'd taken to dropping in more and more often during her lunch dates with Abe.
"What have you been reading today?" He leaned back in his chair, the thin fabric of his T-shirt pulling taut across his broad chest.
Her fingers itched to free his honey-blond hair from the confines of his ever-present pony tail. Unfortunately, every time he showed up, her mind turned to mush. "Um..." Unable to remember the author's name, she pulled the book from the shelf.
Noah took the hardback from her. His fingers touched hers, sending a tingly sensation up her arm. Her breath hitched.
"Robert James Waller. Have you read any of his other work? A Thousand Country Roads is a good one."
Kara shook her head, surprised he was so knowledgeable about a romance author.
"Here you go." Abe handed his grandson a steaming mug and returned to his seat.
Abe rubbed his hands together. He raised his bushy white brows in anticipation, as Kara opened the box. "Oh dear, you've really outdone yourself this time, Kara."
She shrugged. "It's just cheesecake." From a bag hanging from her chair, she produced three small plates and plastic forks. "You're my guinea pigs today. It's a new recipe—Sugar Shack Maple Walnut Cheesecake. Made with genuine Ontario maple syrup."
"How could anything with a name like that taste bad?" Noah used one finger to catch the maple syrup that dripped down the side of the box and licked it. "Mmm..."
Flustered, Kara coughed and turned her head, glancing at her watch. "Oh, my. Would you look at the time?" She fumbled with her purse, purposely avoiding Noah's stare. She kissed Abe's cheek. "I've got to run. We've got a big order for a shindig over at Steele Towers tomorrow night. Ada and Fred are pretty excited about it. It could mean regular business and a huge hike in profits for the bakery."
She watched Abe and his grandson exchange a look. She couldn't help but wonder what it meant.
"Impressive." Abe took a square of cheesecake from the box without looking at her. "Thanks for the cheesecake."
Kara's brow creased. "Try to control your enthusiasm, boys." She slung her purse over her shoulder. "You might want to save some of that for tomorrow. I doubt I'll be able to get away."
The two men grunted, their mouths full of cheesecake.
Kara shook her head as she left the bookstore. "Men!"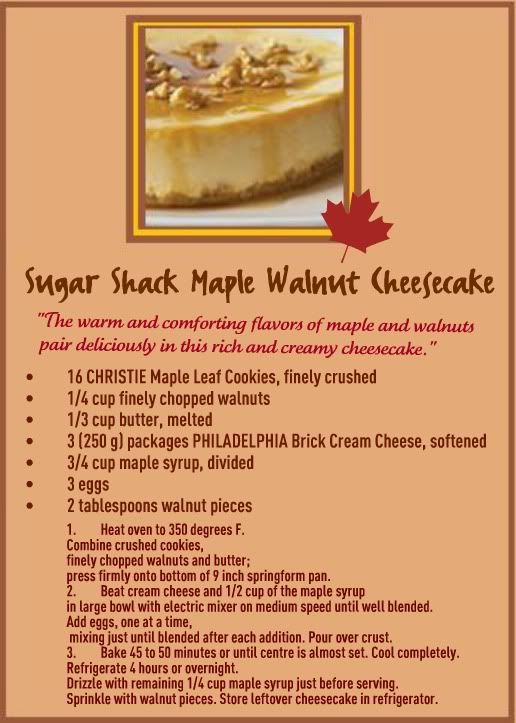 Adelle Laudan Website